Day 1
AdamCon 11 in Kent, Washington is now officially underway. Check here daily for photo updates and descriptions of what's happening.
Opening night reception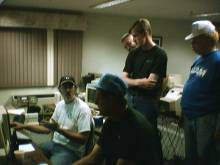 Zonker demonstrates his computer skills at the AdamCon 11 demo room. All who look on are fascinated and amazed.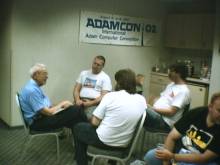 After the official opening in the reception room, impromptu conversations took place in small groups throughout the room. Pictured here, left to right: Richard Clee, Rich Drushel, Dale Wick, Neil Wick. (Guy Bona can also be seen in the corner of the picture).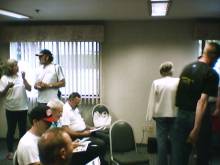 More people wandering around and chatting in the reception room. Visible at left are Pat Herrington and Zonker Lynch. You may also recognize others.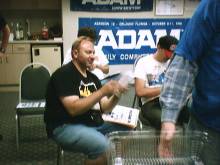 Several Adamites checking out the IHOP menu trying to decide what to have for lunch and breakfast the next day. The plan was to pre-order everything the day before, but we didn't quite get our act together before lunch, and a power outage in the area created lots of competition for fast lunch-time service.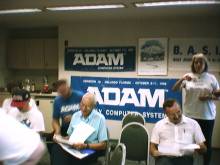 Convention attendees studiously scanning the pages of the information kits handed out at the opening night reception.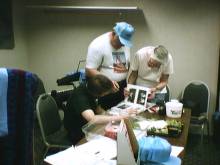 Ron Mitchell gathered together all his pictures from past AdamCons and discovered to his surprise and horror that there were people in them that he didn't even recognize. (These conventions really have been going on for a while, haven't they?) The task was left to whoever was in attendance to identify all the people in the pictures.

Adam Home Page | Adam Pointers Page | Adam News Network Archive | MTAG Home Page
AdamCon 10 Page (1998)