Day 2
Day 2 dawned cool and overcast, everything wet from the thunderstorm of the night before. We trudged off to Breakfast at IHOP, just across the highway, under the freeway and down a couple of blocks past traffic signals that never give "walk" signals. Breakfast caused us few problems, but things edible took a turn for the worse at lunchtime. The thunderstorm apparently knocked out power to about 300 houses in the area, which was the excuse IHOP gave us for taking more than 90 minutes to cook our lunch.
Preparations for the day's presentations: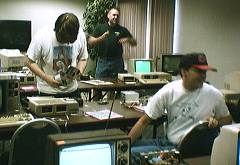 Preparing the computer room for the day's activities.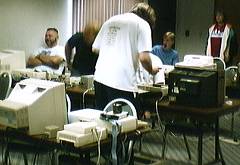 Dale trying to get his DOS files transferred onto an Adam disk.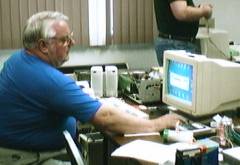 Ron trying to get his Windows computer to co-operate.

Richard's look at the future:
Richard Clee gave a very thoughtful presentation on the state of the Adam community, and also gave his assessment on the future of get-togethers such as this one.

PowerPaint conversion: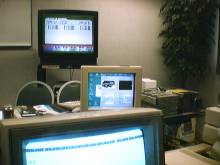 A demonstration of how to convert graphics from various IBM formats to PowerPaint formats for the Adam using BMP2PP.

Supergames, part 1: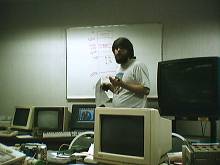 Dale's presentation concerned how to write a supergame. Session 1 concerned how to plan your menu map and what types of graphics can be used.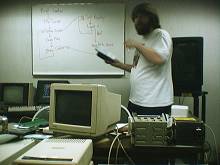 The demo game uses screen mode 1 and can redefine many of the pre-defined text characters which then fit together into backgrounds and characters.

History of the microcomputer: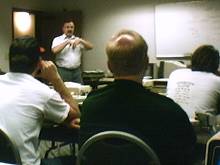 C. Murray McCullough gave a very entertaining and interesting presentation of his view on the history of microcomputers.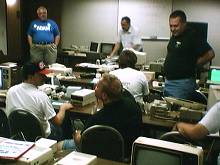 I'm disappointed that I can't show you Murray's wonderful renditions of the sound effects of microcomputer machinery of the past. You just have to make do with checking out Murray's Microcomputer History Web Page.

Evening activities: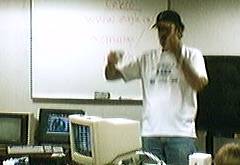 Here is Bart in his best directorial style. The equipment wasn't co-operating for Guy Bona's session, so Zonker declared that suppertime was upon us.

The audience in the demo room, hard at work doing whatever are the things that AdamCon attendees do.

Adam Home Page | Adam Pointers Page | Adam News Network Archive | MTAG Home Page
AdamCon 10 Page (1998)