Day 3
Day 3 began with breakfast, this time at Denny's. The prices were good, the food was good, and most importantly the service was good too. We warned them that we'd be back for lunch and they advised us that 1 pm was better than noon, so with the revised schedule announced, we headed back to the motel for:
Web Page Development for ADAMites
Rich Drushel gave a run-through of HTML and the most important HTML tags, then members of the crowd were invited to try their hands at developping a web page. There was no time to write anything very extensive, but the first efforts of five Adamites are now available here for your viewing pleasure:
(Sorry, there are no pictures from Rich's session - at least not yet. The digital photographers seem to have fled to the mall at this point, only to returning as the rest of us finished lunch, proudly modelling their new aquisitions.)
Lunch
We arrived at a very busy Denny's at 1 pm, but we were soon seated, the food was ordered and the main courses were all on the table within 40 minutes of our arrival (a vast improvement on the 90 minutes+ of the day before). As the waitress arrived with the food, Bart glanced at his watch and declared them the winner. The waitress quipped, "The other guys hire the people who don't work out here."
The classroom set-up in the Mt. Rainier room: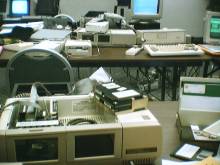 The Mt. Rainier room served as the computer lab and presentation are for the 1999 Convention. An employee of the hotel came in at one point to check the garbage cans and asked whether it was some kind of computer repair workshop. Neil answered, "Not really." Next question: "Then why are the computers all in pieces?" "Welllll . . ."
It seems that PCs are proliferating in among the Adams. There were at least 7 desktop and laptop Windows and Macintosh computers of various kinds in evidence, discreetly used by some of the 18 delegates.

Session 6 - The Adam Emulator
In the absence of Mike Hurst, who couldn't make it to the Con, Ron Mitchell gave us some instruction on how to use Marcel Dekogel's Adam Emulator. The session turned momentarily into a panel discussion, with Dale explaining how disk interleaving works and why that's important to AdamEm users. Many in the audience started up the AdamEm last year after AdamCon 10, but couldn't advance past booting SmartWriter. After this year's session, they understand much more.

Adam Home Page | Adam Pointers Page | Adam News Network Archive | MTAG Home Page
AdamCon 10 Page (1998)